About Us
"Where the locals come for Mexican Food"
Leticia and Ruben Sepulveda Sr., retired, but still watching over things.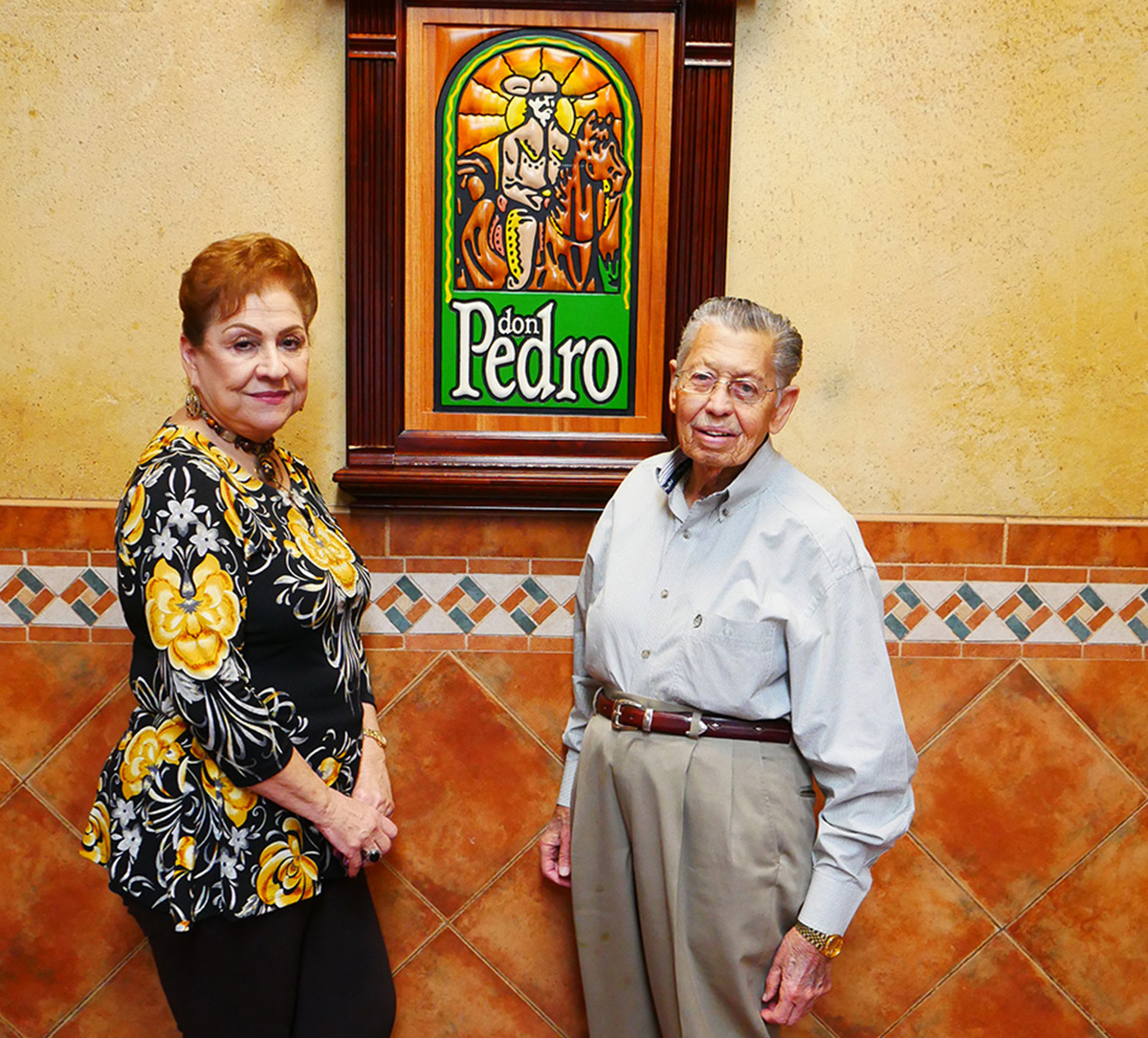 Don Pedro Mexican Restaurant has become a Southside institution
since opening its' doors in 1968.
Celebrating 50 years, the restaurant currently employs more than 140 full and part time workers serving over 12,500 customers on average per week. Don Pedro has added a new 3800 square foot dining room with a full bar, bringing the total seating capacity to 350 guests.
Owned by the Sepulveda family, Ruben Sepulveda Sr. started as a waiter along side his wife, Leticia, head chef in the kitchen, after arriving in San Antonio with their three young sons in 1972 from Monterrey, Mexico. In Monterrey, the couple had owned a 200-cattle dairy farm and had dreams of a better life for their children in the United States. When more than one half of their cattle succumbed to disease, the Sepulveda family decided the time was ripe for the move to the U.S. Just six years later in 1979, the dream of a better life became more of a reality when they became full owners of Don Pedro.
Trained in the kitchen by her mother, a cook extraordinare, Leticia brought many Mexican dishes and recipes from Monterrey for customers to experience including Cabrito and Chile Relleno. Her culinary talents kept customers coming back day after day. Even today, Leticia is often in the kitchen, checking quality and taste and offering more delicious plates such as Asado de Puerco (Pork Stew) and her homemade desserts of pineapple empanadas and flan cake topped with pecans.
With an attention to detail and a belief in providing outstanding customer service, the Sepulveda's continued to build their restaurant focusing on providing a family-friendly environment where "everybody knows your name". As their sons, Ruben Jr., Marco and Oscar grew with the restaurant, they served under their parents as bussers and eventually as waiters before going off to college and trying other work experiences. Over time, each son returned to Don Pedro, and by 1991 all were involved in the operation, helping to carry the tradition as the second generation. In 1997, Ruben Sr. and Leticia welcomed retirement and sold the restaurant to their sons. Ruben Sr. returned to his first passion — operating a 100 acre cattle and horse ranch in Southeast Bexar County.
Throughout the restaurant's history, the Sepulveda family has been very supportive of local schools and other charities in and around the South side of San Antonio. Every year Don Pedro sponsors football and volleyball schedules free-of-charge for these schools. Every year, Don Pedro sponsors the annual golf tournament for McCollum High School Scholarships.
Focusing on service and quality, Don Pedro has an extensive training program that teaches employees not to be unique, but uniquely consistent in everything they do from welcoming the customer, serving hot, delicious homemade cuisine, providing a safe, clean and friendly environment and affordable prices to customers. Outstanding employees at the restaurant are recognized each month and at the end of the year.
In addition to the Express-News recognition, Don Pedro has been featured by Food & Leisure Magazine, on the Patsy Swenson Cooking Show and several times on the San Antonio Living Show on KMOL-TV. In 1999, Ruben Jr. also was recognized by the San Antonio Business Journal as a member of San Antonio's outstanding "40 Under 40" businessmen.
Thomas Carvel Immigrant Entrepreneur Award
In May of 2002 Restaurateur and National Restaurant Association member Ruben Sepulveda, Sr. was presented with the prestigious Thomas Carvel Immigrant Entrepreneur Award by the National Immigration Forum.